The Canaan Scholarship Programme
One of the key missions of Wesley Methodist School Ipoh is to provide quality education to deserving students regardless of their socioeconomic backgrounds. This is our contribution to nation-building in Malaysia. In conjunction with the launching of the Canaan Project, WMSI has set up the Canaan Scholarship programme to provide students with the opportunity to gain an excellent and holistic education at WMSI.
When you have decided to enroll your child into WMSI, please follow the simple steps below to complete your child's application procedure.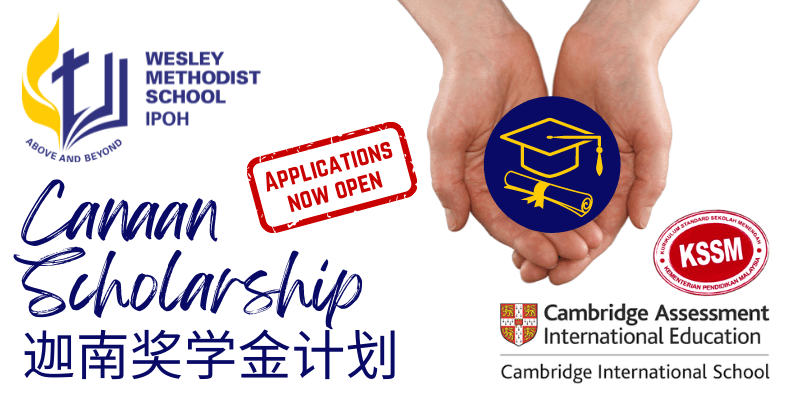 Intake
Sept 2023 (International School)
Eligibility (Year Group)
Open to all Malaysian students applying for Year 7, and Year 10.
Criteria
Any of the following:
Good academic performance; or/and

Talent such as sport, performing arts, music, and others; or/and

Good skills and other positive attributes; or/and

Financial need
Note: Students who meet the above criteria are not automatically entitled to the Canaan Scholarship. The Canaan Scholarship is awarded at the sole discretion of the WMSI Management.
Tenure
The duration of the scholarship would be as follows:
Year 7 to  Year 9 (3 years)*

Year 10 to Year 11 (2 years)*
*Subject to satisfactory review and renewal
Note: Students who complete their Canaan Scholarship programme in Year 9 may reapply (subject to availability) for further scholarships to Year 10.
Fees covered by the Canaan Scholarship Programme
Info:
50% to 100% waiver of Tuition Fees

ONLY
Note: Students on the Canaan Scholarship programme shall not be entitled to any other types of ongoing discounts on school tuition fees. (e.g. sibling discount, scholarship, staff discount)
How to Apply?
1. Print out and fill up the Canaan Scholarship form. Submit the Canaan Scholarship form along with the school application form, application fee, and the necessary supporting documents.
2. You may submit the forms directly to the school office or email it to info@iph.wms.edu.my Please email using the same email if you have any questions or require any assistance.
<DOWNLOAD CANAAN SCHOLARSHIP FORM>
<DOWNLOAD SCHOOL APPLICATION FORM>
Application Deadline
8 August 2023, 5 pm (September 2023 WMSII intake).
Financial Support
WMS Ipoh strives to provide academic excellence at an affordable cost. Please contact our marketing team if you like to learn more about our financial support packages/instalment programmes.
More Questions?
Please refer to the frequently asked questions below for more information regarding the Canaan Scholarship Programme.
You may also direct your enquiries to info@iph.wms.edu.my or call/WhatsApp 012-5005033.
Frequently Asked Questions
For questions regarding eligibility, criteria, submissions dates and more, click here.