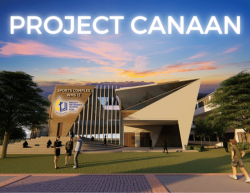 WMSI seeks to prepare students to face a future with the right 21st Century skills. Values ethics and people skills are a large part of this. We hold to the vision that each child must grow "in wisdom, in stature and in favour with God and men".
To achieve this we need to create space for:
a resource centre where students can have access to various forms of research and learning such as online research hubs and hard copies of books

students to work on collaborative projects safely
children to play and stretch themselves physically on the games arena, the dance floor and play areas
students to explore creatively their God-given talents in the field of music, art and technology
each child to embark on a spiritual journey as they learn in quietness in the Chapel or walk with a mentor in the counselling room
Our new complex will have the following facilities:
Multipurpose Hall (for sports, camps interschool competitions, Brigade activities and public examinations)
Activity Hall
IT room
Resource Centre
Auditorium (for school-wide events & production, chapel & assemblies
Meeting Rooms
Administration Office
Sick Bay
Classrooms
Our target date for this project to begin is December 2021 and we hope to complete it in 2 years, This will also enable us to meet the needs for more classrooms as our student population grows.
The cost for Project: Canaan (inclusive of furniture and fittings) is RM12 million. We seek your partnership with us on this project.
Finally, thank you for taking the time to read through our appeal. It is our prayer and hope that you will support us generously so that the work amongst our children can continue to grow "Above & Beyond".
"The future of the world is in my classroom today"
Ivan Welton Fitzwater
Please help us make a difference in the World and bank in your contributions at 320-167-6225 (Public Bank)@Methodist School Ipoh International.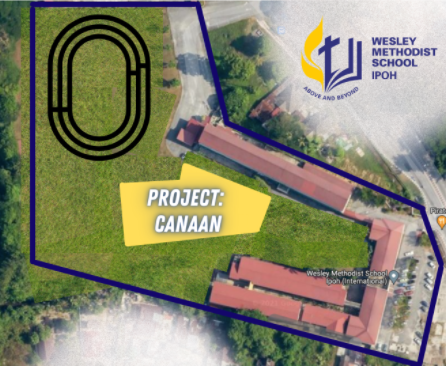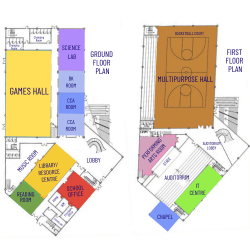 Project Canaan Updates: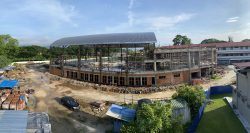 1 June 2023
WMSII is delighted to announce that Project Canaan has reached a significant milestone, with 60% of the construction work now completed. The project is currently focusing on tiling, wall installations, and roofing. Excitingly, the construction of the first floor is already underway.
We eagerly anticipate the completion of the project by the end of 2023, and we are filled with hope and anticipation as we look forward to enjoying the new facilities.
Response Slip
If you like to support the Project: Canaan, please fill up the Response Slip and indicate the amount/room(s) you like to sponsor in the Response Slip. If you have any questions about the Project: Canaan, you may also fill up the Response Slip and we will get in touch as soon as possible.
RM50,000 towards a Classroom
RM50,000 towards Bible Knowledge (BK) Room
RM100,000 towards Conference Room
RM200,000 towards IT Centre
RM1,000,000 towards Multi-purpose Hall
RM2,000,000 towards Auditorium
Thank you!