Journey with Us
A brief look at our upcoming facilities and programmes.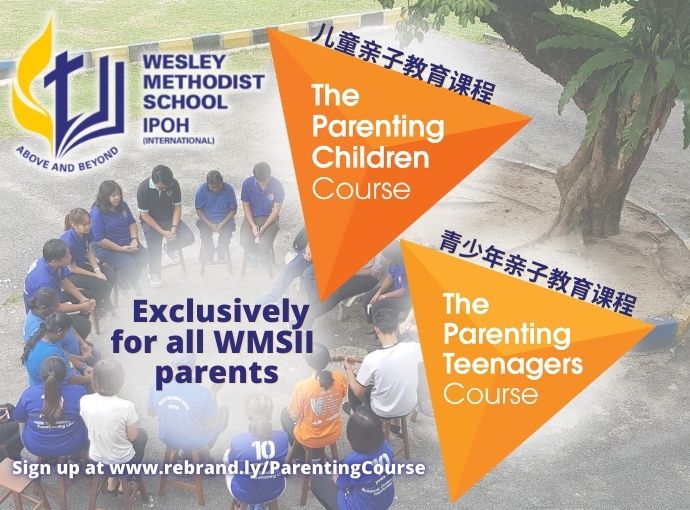 The Parenting Course
The Parenting Course is a series of five sessions designed to help parents equip their children for life. The course contains practical tools and is applicable for those who are parents, step-parents and guardians. Parents are placed into small groups where they can share and discuss experiences freely without worry as any and all information will remain confidential. Click here for more information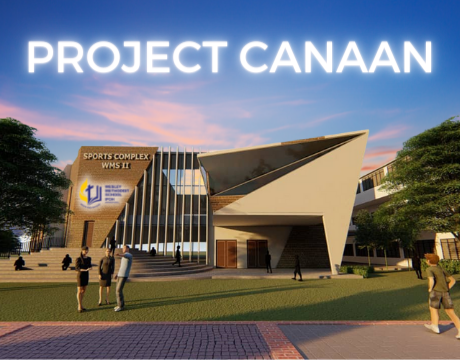 Project Canaan
The journey has begun. WMSII is grateful to many parents, students and friends who have donated their time and money to support the school Thus Far. We continue to place our trust in God to bring more people into this exciting journey of Project Canaan that will revitalise our school and be a blessing to the Ipoh community and our country. Click here for more information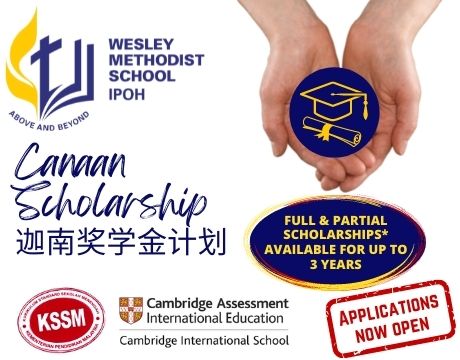 Canaan Scholarship
One of the key missions of Wesley Methodist School Ipoh is to provide quality education to deserving students regardless of their socioeconomic backgrounds. This is our contribution to nation-building in Malaysia. In conjunction with the launching of Project Canaan, WMSI offers Canaan Scholarship to students with an opportunity to gain an excellent and holistic education. Click here for more information
WMS-MCKL Principal's Scholarship
Attention to all WMSII Students! GOOD NEWS! MCKL College Penang is offering an exclusive full scholarship to deserving WMSII students interested in continuing their tertiary education in MCKL Penang. 👉 Limited Scholarship Available 👉 Closing date: 31 May 2022 👉 Don't wait! Contact us for more details today! Click here for more information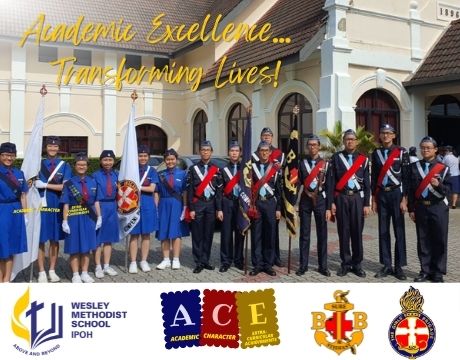 Transforming lives through the Brigade programmes
We believe that children are to be nurtured as a whole person and academic improvement is never separated from personal growth in other areas. Learning in our 2 schools, therefore, emphasises the nurture of a student through a step-by-step academic programme interlaced with strong character development activities. We believe through the Brigade programmes, our students will develop the leadership qualities needed to face the challenges in the 21st Century
Community Speak
Parents and students share about their experiences at WMS Ipoh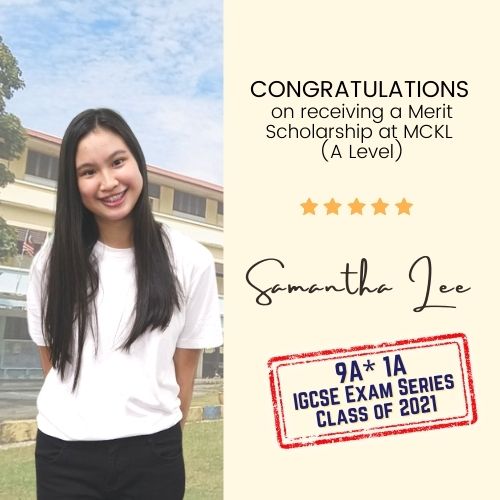 Alumni
"The unparalleled dedication and support provided to students by the WMSII teachers and staff cannot be overstated. I have made many fond memories over the last five years, and I consider it a privilege to have been a student here. Thank you to all who have been a part of this journey."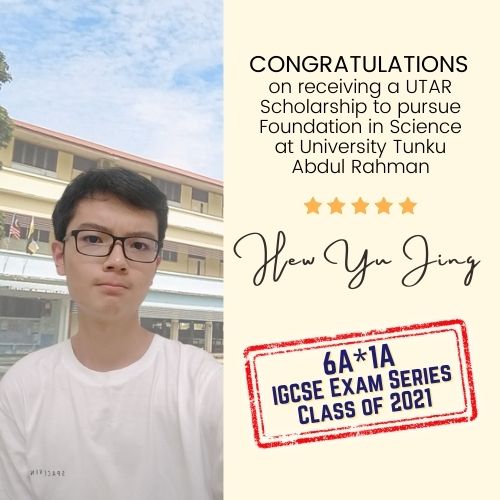 Alumni
I would like to thank all the teachers for their support and dedication. They cheered me on and also lived up to the school's motto : academic excellence and transforming lives.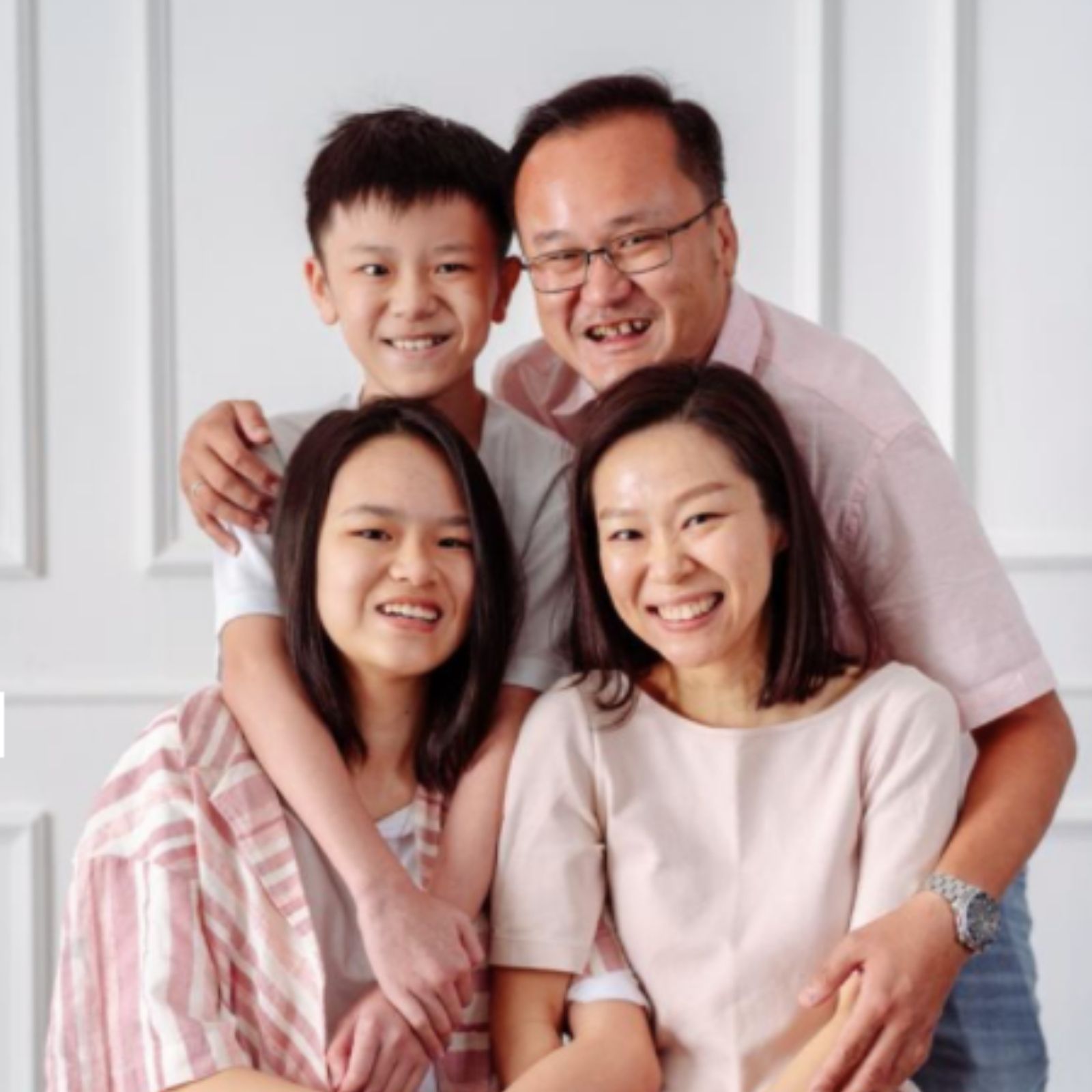 Parents
"Even though I get goosebumps whenever I see the homeroom teacher's messages chasing me for his homework or when I get a call reminding me about any outstanding assignments. As a working mum, I am truly grateful to have my child under your care." - Mdm. Ng May Cheng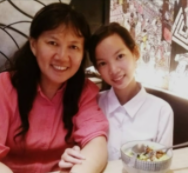 Parents
"The teachers in this school are very committed and serious in their work, especially when conducting online classes. Online teaching is not easy but based on the feedback from my child, I can gather that the teachers here are very passionate about teaching and are always willing to guide the students to make sure they progress in their studies." - Mrs Ong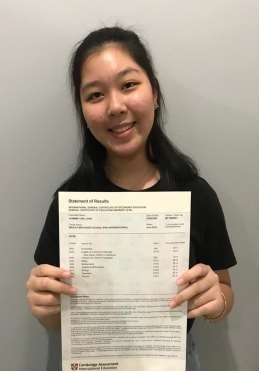 Alumni
"The culture of Wesley Methodist School Ipoh has definitely been a big help. Dedicated teachers like Madam Philomena put in extra time to tutor me when I could not cope." - Jasmine Tan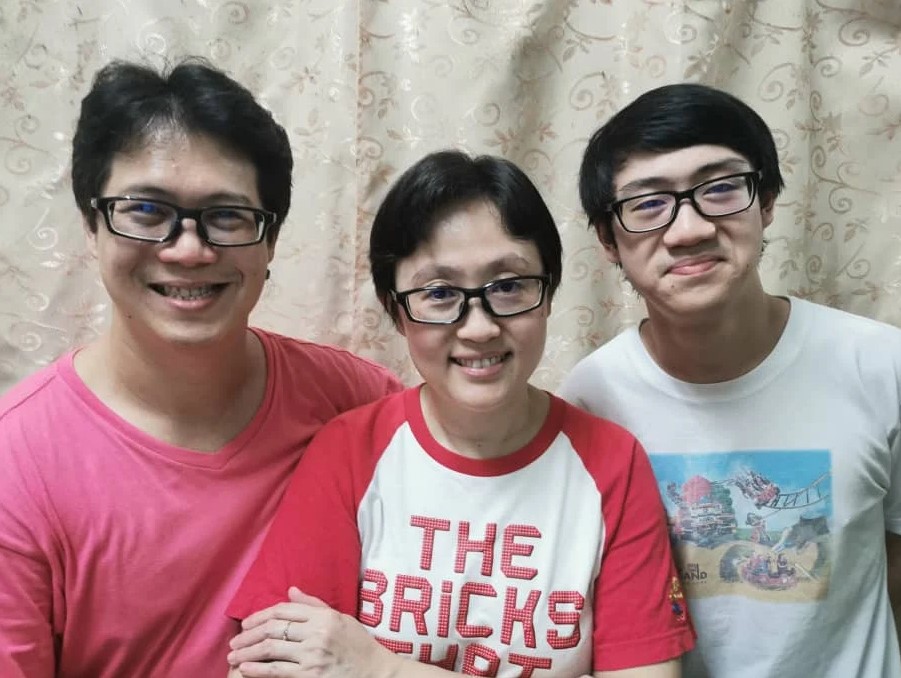 Parents
"Thank you to all the teachers and staff and management of WMSII for their dedication and effort to students. Really good effort during this trying pandemic times, we will get through in time by staying strong. Thank you again." - Mr Wong Chin Chiew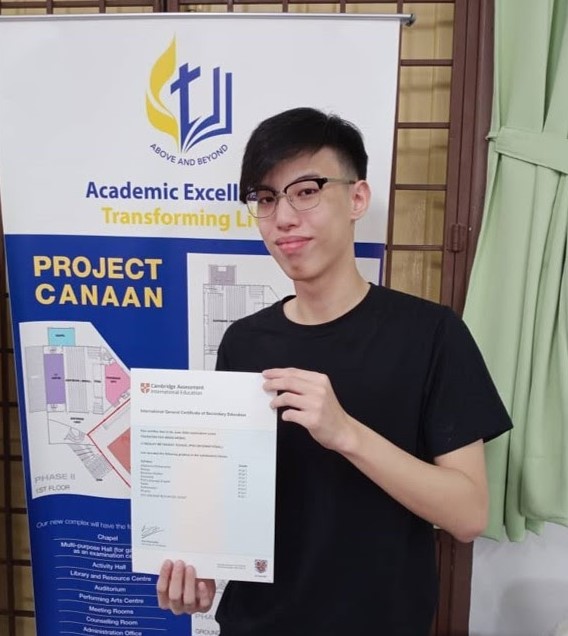 Alumni
"I want to thank the school for everything. The teachers have never ceased to push me to reach my fullest potential both academically and in extra-curricular activities. 'Patient and caring' would merely be an understatement if one were to ask to describe the teachers here. They are always here, not only for me but for every student studying here." - Thurston Foo (IGCSE- 8 A*)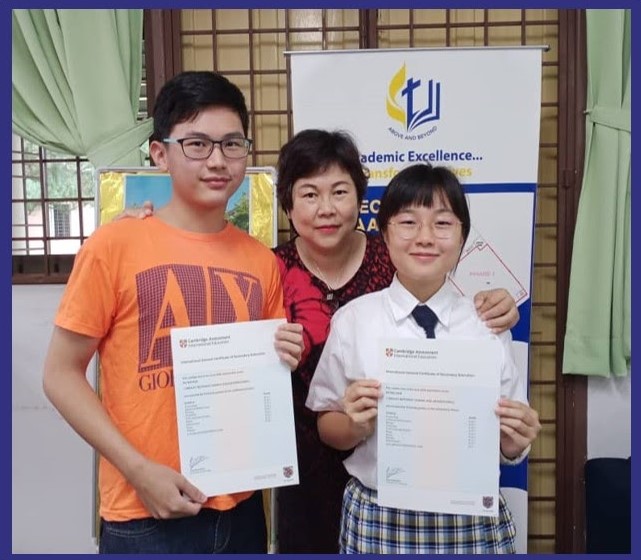 Alumni
"The teachers in Wesley are like my guardians. Their guidance has helped me not only in my studies, but in character building as well. Many times I had confided in my teachers to help solve issues that were bothering me." - Ng Wai Hoe (IGCSE- 9 A*)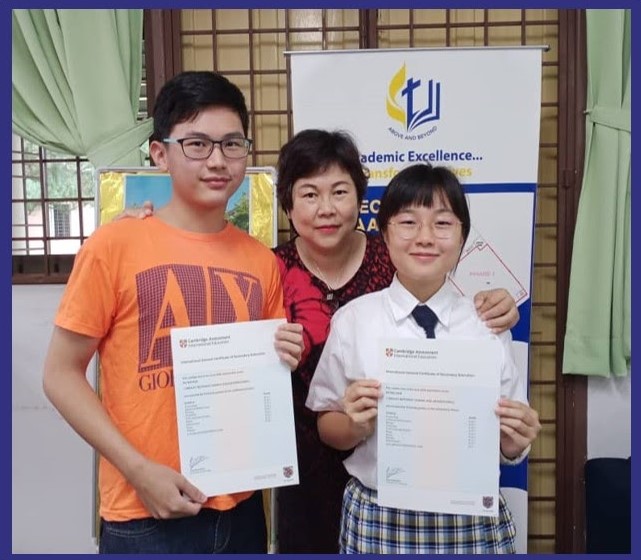 Alumni
"True to its motto, 'Above and Beyond', the school emphasises academic excellence and encourages active extracurricular participation. In my three and a half years here, I participated in sports, academic projects (debates & presentations) and extracurricular activities. They allowed me to recognise my strengths and weaknesses." -Ng Wai Siew (IGCSE 2020-8 A* , 1 A)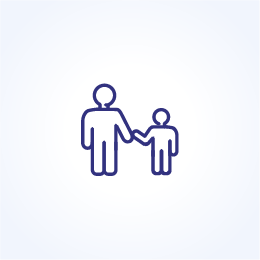 Parents
"After four years, I see my son having more positive values and there is a change in his character. He used to keep to himself, unlike his sister who is more active. Now he is beginning to like outdoor games and has made many friends. As parents, we want our children to have a strong character, good values and not merely concentrate on academics." - Mrs. Regina Lee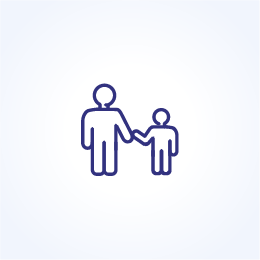 Parents
"A school with a team of committed educators that provides holistic development in enabling a child to realise his/her full potential intellectually, physically, socially, emotionally and spiritually." - Mr Yip Weng Hung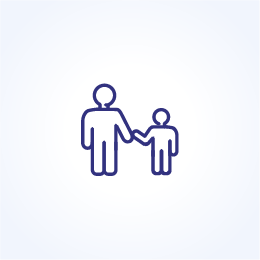 Parents
"Thanks to all the teachers, you are great and very responsible and patient to all the students. Li Jie never went to extra tuition classes after school from year 1 till year 11. I'm sincerely thankful to all school teachers and staff. Your helpful hand and caring heart to educate my child will become an excellent man in near future. Thank you." - Mdm. Yeong Foong Kwan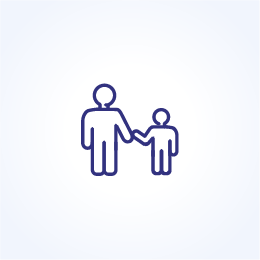 Parents
"I am truly grateful that my son was able to attend a Christian school which has not only the education of the kids at heart but also the development of their Christian faith and positive values. I pray for the school's continued progress that they will maintain their unique Christian identity and be able to bless more students." - Mrs Elaine Wong.
Learn more about WMS Ipoh!
Discover what makes WMS Ipoh different?
Watch the testimonies from parents and students whose lives have been positively impacted at Wesley Methodist School Ipoh. Academic Excellence... Transforming Lives!
Slide
Slide
Slide
WMSII School Term

School Term 1: Sept – Dec
School Term 2: Jan – Mar
School Term 3: Apr – Aug

School Hours

Monday – Thursday
7.30 a.m. – 2.30 p.m. (Year 1 – 6)

7.20 a.m. – 3.30 p.m. (Year 7 – 10)

Friday
7.30 a.m. – 2.00 p.m. (Year 1 – 6)

7.20 a.m. – 2.30 p.m. (Year 7 – 10)

Office Hours

Monday – Friday:
7.30 a.m. – 4.30 p.m. (Sch. Days)

8.00 a.m. – 4.00 p.m. (Sch. Holidays)
Happenings
Stay up-to-date with our current and upcoming school activities.
Discover More

Our Core Values
We strive to create a culture that values good character based on our core values.
GOD-CENTEREDNESS

RESPECT FOR LIFE

INTEGRITY

EXCELLENCE WITH HUMILITY
Quick Links
Explore school links, academia, subjects, curricular activities and more.
See you in School
We are excited to welcome you to our school! Kindly drop us your details and we will get in touch with you. You are welcome to make an appointment to visit our school and we will be delighted to show you our campus and share with you the details of our programmes.
See you in school!