English Storytelling Competition
One of the best ways to improve English is through regular use of it.

WMSII is happy to provide your child with an opportunity to practise using the language in a creative and fun way, while at the same time showcasing his/her talents.

We, therefore, invite you to check out our (i) storytelling competition and (ii) English workshop, both scheduled on Saturday, the 15th October, 2022.

Don't miss out on these chances to help your child improve his/her English communication skills in a fun manner!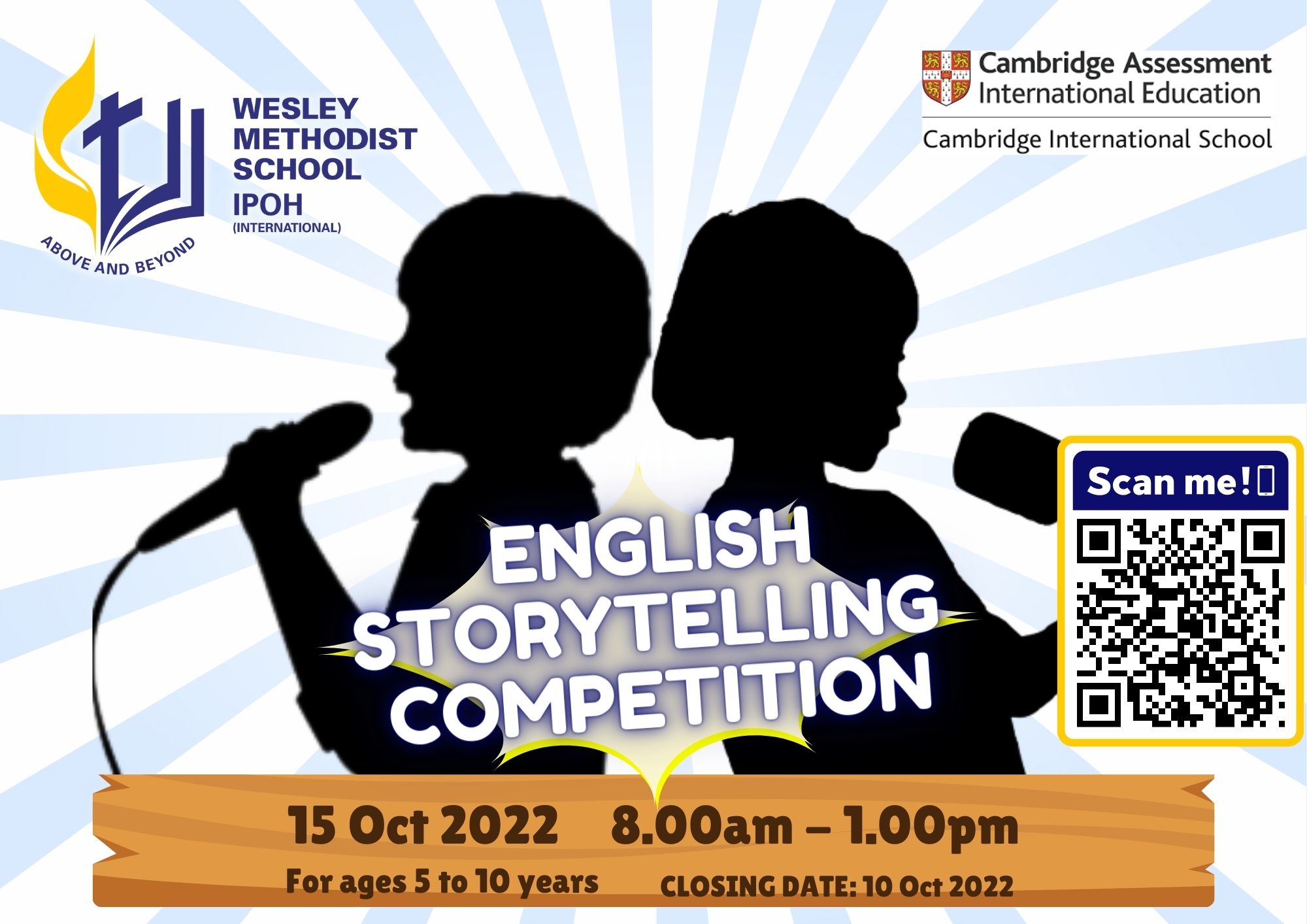 Competition Details
– 15 October 2022 from 8 am to 1 pm
– Open to students between ages 5 to 10. (Pre-Junior Category is for ages 5-7)   (Junior Category is for ages 8-10)
– Top 3 winners in each category will receive a winner's certificate and RM50 POPULAR gift vouchers.
– All participants will be given a certificate.
– There will be a free English workshop for all participants on the same day.
– Registration Fee: RM20.00 (inclusive of snacks)
-CLOSING DATE: 10 October 2022 截止日期:2022年10月10日 <br>
Rules and Regulations
The contest is open to children aged 5-10 living in Perak.
You shall not be a student of Wesley Methodist School Ipoh (International).
All stories are to be told in English.
Stories told not to exceed 4 minutes.
Classic stories such as myths and legends pertaining to the natural world can also be used.
All stories can either be original, unpublished work or something previously published.
If using work by a published author, the storyteller must mention the author's name at the beginning of his/her storytelling performance.
The contestants are not to use the backdrop and sound effects on the day of the competition.
The contestants will be judged based on the following criteria:
* Language proficiency, 35 points;
* Presentation, Delivery 20 points;
* Theme/Storyline 10 points; and
* Costume 5 points
* Total 70 points
The registration fee for this competition is RM20.00
The decision of the panel of judges will be final and no correspondence will be entertained.
All participants must arrive before 8.10 am on 15 Oct 2022. The school reserves the right to disqualify any participant who comes after 8.10 am.
Participants' costumes or attire must be decent and appropriate in a school setting. The judges may disqualify any participant who is not decent or appropriately dress.
The school reserves the right to substitute any of the Prizes with that of similar value at any time at their absolute discretion without prior notice.